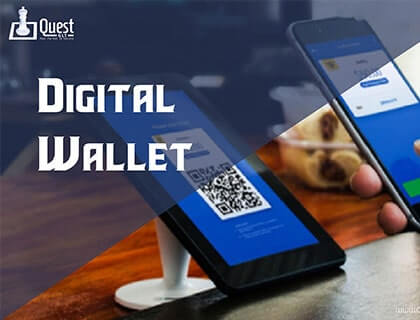 Digital wallet is associated with software based system for making e-commerce transactions. So, the digital wallet is the one through which many online transactions can be made. It is very useful in this era. These are also used for the authentication for the users. It has the viability to completely store the credential, transaction history and many personal details. These have a useful working when it has been used with mobile to make easier payments. It has two major components in which one is software information and other is information storage .The software part is responsible for the security, encryption and the actual transaction. It resides on the client side and is compatible with e-commerce side. The user information includes billing address , shipping address and other relevant information. Digital wallet has one more type called as server-side digital wallet which is generally created by organizations for users. These type of wallets have more popularity as compared to other as these are more secure and efficient. These are also classified as m-wallets and RBI has specified into three types which are close wallets, semi closed and open wallets.
Close wallets do not allow cash withdrawal and these are for instance Jabong , Make my trip, Mytra etc. Now comes the concept of semi closed wallet which same as closed wallet which does not allow the to redeem or withdraw the money. But it also transaction on contractual basis .Some examples are Paytm, PayUmoney etc. The wallets which allow both redeem and withdrawing of the cash are the open wallets and the perfect example is Mpesa by Vodafone.
Paytm is one of the most popular digital wallet in India. Around 20 million people use its service. However, it is a very feasible thought to come that how digital wallet works? Before switching to that it may be understood digital wallet is the blanket description of range of technologies that let one perform many tasks. Many digital wallets work on the smartphones and can be unlocked by the usage of phone number or pin to keep a secured transactions. It has been beneficial to many as it keeps the merchants away from fraud and they can sell more products and very faster too. The concept of digital wallet has promoted the transparency system. Digital wallet has promoted the development in developing countries like India .It has tremendous scope to make life more easier.