Current data challenges
One of the key challenges faced by modern companies is the large volume of data coming from different type of data sources.
1
Lack Of Business Insights
Business tied up with descriptive analytics.
No focus on predictive and prescriptive analytics to support key business decisions descriptive analytics.
2
Siloed Data Stores
Data spread across multiple data stores.
Inconsistent outcomes.
Maintenance hassles.
3
Expensive Platforms
Expensive appliance databases : more than $100/TB of storage in some cases.
4
Massive Data Growth
Data growing from terabytes to petabytes to exabytes.
Unable to manage with traditional databases.
Major Benefits
Here are some of the major benefits of using a Data Lake.
Helps completely with product ionizing & advanced analytics.
It gives worthwhile flexibility and scalability.
Provides value from infinite data types.
It lessens the longstanding cost of proprietary rights.
Allows economic storage of files.
Quickly adaptable to changes.
Centralization of different content sources is the main advantage of Data Lake.
Users, from different departments that may be scattered around the globe can have flexible access to the data.
Our Framework
Our Data Ingestion Framework, Data Ingestus is vendor agnostic, secure, entirely integrated, distributed and extremely scalable.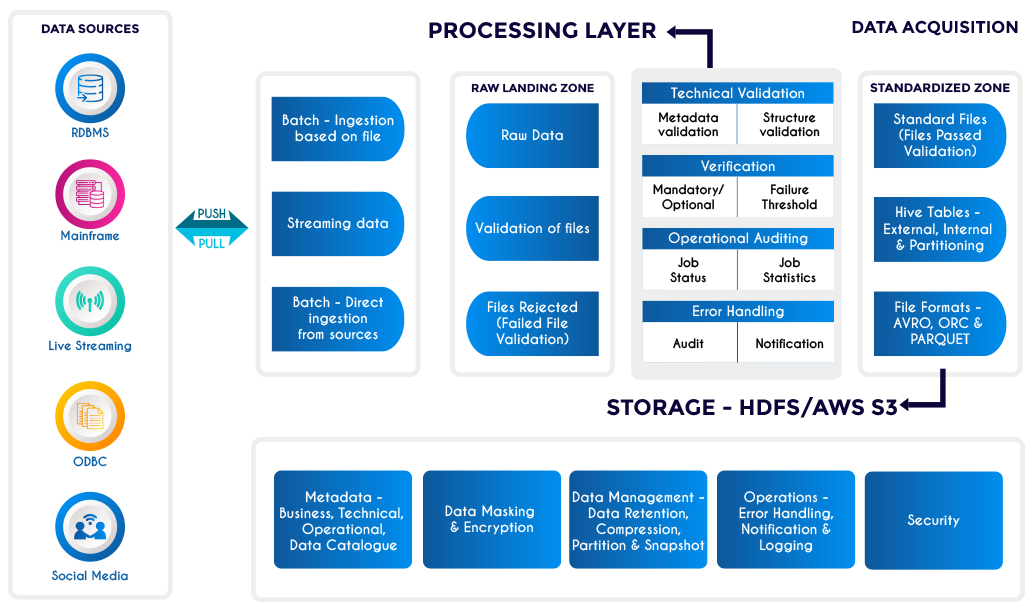 Our framework is easy to use but highly powerful for organizing and collecting data from enormous array of sources, whether data is structured, semi-structured or unstructured. Our tool can gather data seamlessly from enterprise systems and multiple Hadoop distributions (Hortonworks, MapReduce and Cloudera). By using our ready-to-use framework, your organization (or IT Department) does not have to become experts in coding and learning languages.
Key Features
The Data Lake standardizes the data and is a cost-effective manner to store all data of an organization for later processing and analytics.

Jumbled
We have flexibility to handle any type of data – Synchronous or asynchronous, structured or unstructured, batched or real time.

Rapid Data Extraction and Processing
Data transport protocols to collect, process, integrate and deliver data to the appropriate destination system.

Refine as you go
You can add more items and can even clean your data during ingestion while your pipeline runs with zero downtime.

Push from different sources
Data in Dataguzzler can be imported from different data sources like flat files, RDNMS, Mainframe, social media, etc to combine them to a single store.

Dataflow Visualization
This feature allows users to visualize dataflow. A simple drag-and-drop interface makes it –possible to visualize complex data and find and effective way to simplify the data.

Identify Errors
Small errors in your data can prevent some important data from importing. With our error handling framework you can audit all your data.

Scalability
Highly scalable to accommodate different data sizes and meet the processing needs of the organization because they are designed for extension. This is because users can configure nodes to perform parallel tasks or increase the number of transactions performed by the processor.

Multi-platform Support and Integration
Ability to extract different and all type of data from multiple data sources in the cloud or on premises. Data ingestion tools can regularly access data from different type of databases and operating systems without impacting the performance of these systems.
Success! Your message has been sent.
Scroll