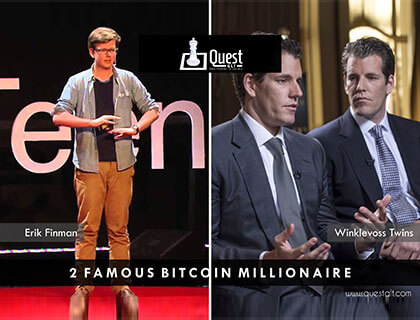 On 15th December 2017, a single bitcoin reached $17,900 and crafted millionaires thus changing their life. The number of bitcoin millionaires and billionaires is uncertain and can range somewhere between 40 -200. This uncertainty is because of the anonymity which is provided to the bitcoin investors. One reason people like to stay anonymous is that they can be exempted from the government taxes. While there are millionaires who are still unknown, we have some known individuals who became millionaires overnight. So let's peep into their story and get some good inspiration.
Erik Finman – Story of a 19 year old youngest Bitcoin millionaire in the world
"If you have a smartphone, an internet connection, and a bit of free time, anyone can find a way to make money on the side. There's so many ways to make money if you're just willing to be creative and use what you have." tweeted Erik Finman on 14 Jun 2018.
This 19 year old enthusiast with $3.3 million in his account has become a sensation and source of inspiration for all the young community of people around the world. When he was 12 he was introduced to cryptocurrency through his older brother. He was very fascinated by the fact that bitcoin arose out of a distrust of centralized government and politicians' ability to manage the world and that we can do it ourselves.
According to him understanding bitcoin was not a tough job and even bitcoin faucets help in providing free coins to whoever is interested. When he got $1000 of his grandmother's inheritance he spent them all in cryptocurrency and who knew that on 15 December 2017, a single bitcoin will reach $17,900 and turn him into a millionaire. He also made an agreement with his parents that if he had made his first million by 18, he wouldn't have to go to college and voila, he succeeded!
Finman hated school and his teachers. He said "School just wasn't for me. I had one teacher who told me to drop out and go work in McDonald's, because that was all I was going to amount to in life." Recently he also posted a tweet stating " The day that schools start teaching about blockchain technology, entrepreneurship, and investing is the day that schools become worthwhile again. Maybe I should make a school that does that…"
Besides posting pictures of himself stepping off private jets or lounging on a bed covered with dollar bills this enthusiast hits maturity as he is currently working on building an Octopus suit. This suit is a wearable prostheses modelled as the four-armed contraption which belongs to Doctor Octopus from the Spider-Man comics.This suit was made for Aristou Meehan who is a 10 year old guy and the son of one of Finman's mentor who suffers from hypermobility issues.
Instead of moving to college and wasting his time in graduation, he travelled; he took part in a Reddit AMA and gave a TedX talk and inspires his 34.2K followers on twitter and 11.7k followers on instagram and has a great future in cryptocurrency.
Winklevoss Twins –First Bitcoin Billionaires
If you have heard their name then it is after they got famous for suing the Facebook creator Mark Zukerburg in 2011 who was their colleague when they were in their under graduation at Harvard University. They claimed that Zukerburg has stolen their idea of creating a social network platform which they called Harvard Connection but which Zukerburg called Facebook and charged him a penalty of $65 million. This money was used in their future investments in bitcoin.
Winklevoss twins rowed for the US at the Beijing Olympics in 2008 ofcourse in the men's pair category and came sixth in position. They are not actors but have been well known from the movie "Social Network" released in 2010 which portrayed the famous fight for founding the Facebook. Besides these they are successful entrepreneurs and have their business venture. Also they have led a seed funding round for bitcoin payment processor BitInstant.
In 2013, the twins' filed to register a bitcoin exchange traded fund called Winklevoss Bitcoin Trust; however the fund was denied in March 2017. They have never settled as they the twins launched Winkdex, a financial index that tracks the price of bitcoin in 2014. Gemini which is the Bitcoin exchange, received approval to be launched which targeted at both first-time users and professional traders in 2015.
In 2013, the Winklevii traded $11 million from $65 million received for Facebook which was criticized by the world and considered not more than a fool's folly. That time the coins held $120 per coin. Howeverthe 6-foot-5 identical twins become first billionaires when Bitcoin hit $11,395 in Dec 2017. The New York Times reported that "The twins' are owners of coins worth $1.3 billion and that they also held an additional $350 million in other cryptocurrencies like Ethereum."
At such great height everyone is expected to splurge but the Winklevoss brothers are managing their wealth differently. The two twins say that they live a Spartan life with no luxuries at all. The Times report "Cameron drives an old S.U.V.; Tyler doesn't have a car at all."
The recent news says that these twins are returning to their favourite place i.e. the courtroom. They are going to sue a buzzy Hollywood porn magazine and they claim that the owner used part of the $1.3 million they invested in it to support his "extravagant lifestyle." What-so-ever these twins do they have achieved success and have never stopped so let us wait and look what happens in this matter and get some good lessons from them.
So these were the stories of the two amazing personalities whose actions and next move has been under shutter eyes. Their stories have lot more to hear and get inspired from. May it is from a 19 year old enthusiast or 36 year old twins from Havard, both of them teach us to believe the process and stay calm while the world keeps barking because when you are connected to the universe things will eventually fall into the right place.